This is Salem Sue, a – dare I say – statuesque Holstein (or Friesian) cow. She stands tall on a ridge keeping an eye on the traffic flowing along Interstate 94 near New Salem, North Dakota. Sue was put up in 1974 by the New Salem Lions Club to help promote the region's Holstein cattle. Given that "the average productive life of a Holstein is approximately four years" [1], Sue is doing pretty well, and she gives the lie to the assertion that… "Cows that are always on concrete have a lesser chance of living longer." [2]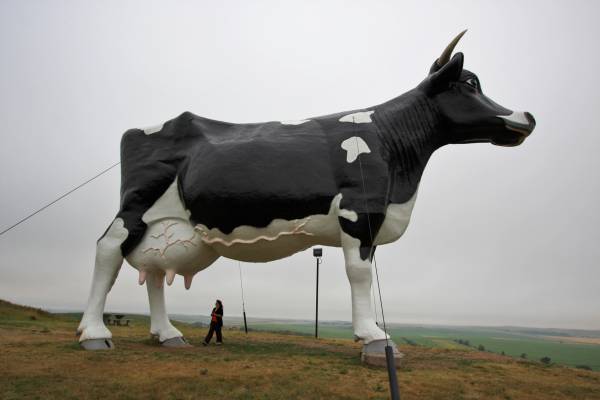 I have to say she looks more friendly than the Friesians we had on the farm when I was a kid. The Jerseys were my favourites – not that I really liked any cows, mind you – because they were usually good-natured and placid, while the Friesians tended to be a bit flighty and aggressive.
Sue is more than 11m tall and 15m long. She's made of fibreglass, so I doubt she gives much milk, but her size makes her visible from about 8km away. The photo below seems to have been taken from I94 to the east of town and about 2km from Sue.
The RealND Project has more information on this "truly unique North Dakota roadside attraction" (their words, not mine), heaps of photos and no less than ten virtual tours of Sue. And I thought Australia's Big Banana was something to behold :).
[1] Holstein Association USA: Holstein Breed Characteristics, accessed 22 Dec 2011.
[2] WikiAnswers: What is the average age of a dairy cow?, accessed 22 Dec 2011.